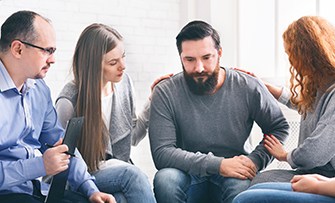 What Is Alcohol Rehab Like?
Making the decision to go to alcohol rehab can be challenging. While you're ready to take the steps toward a better life, the unknown can be a deterrent. This is why it is important to know what alcohol rehab is like before you go so that you can be as comfortable as possible when you arrive. Keep reading to learn more about what alcohol rehab is like and what you can expect with treatment at Luxe Treatment Center.
Non-Invasive Detox
Upon entering alcohol rehab, one of the first things you will do is become physically sober through non-invasive detox. Overseen by our clinical and medical staff, detox allows you to reach a better physical and mental space for the journey ahead.
As a medication-assisted-treatment-certified team of addiction professionals, we can prescribe medications (in combination with therapies and counseling) to ensure your comfort throughout detox treatment. This means you will experience physical sobriety in the safest, most comfortable way possible with around-the-clock care.
Your detox process will involve the following:
Customized plan for your individual situation
Oversight from qualified addiction professionals
Skilled medical staff, always available
Good, balanced nutrition to promote optimum general health
Beautiful, relaxed setting to ensure a feeling of serenity
Individual Care
Every person who suffers from alcohol use disorder experiences different symptoms, hardships, root causes, traumas, family dynamics, and much more. Because of this, we offer individualized care tailored to your specific needs. This means that your care plan will be different from everyone else and that our facility isn't a cookie-cutter rehab you may not mesh with.
In addition, we offer a luxurious private facility ensuring your complete comfort and confidentiality. We cater to your physical, mental, and spiritual pursuits alike through relaxing grounds, chef-prepared meals, and a warm, family-like environment.
All-Encompassing Support
In addition to detox and individualized care, you will enjoy a complete support network of people, programs, and therapies both during and after your recovery stay with us. Just because your stay with us ends, doesn't mean the support and care go away.
We ensure your support network through our caring professional staff, your referring professional, and your loved ones. A wholly inclusive support structure of this type goes a long way in validating your hard work and letting you know that someone is always there for you.
Alcohol Rehab with Luxe Treatment Center
If you're ready to take the next step toward recovery from alcohol and begin alcohol rehab, we are here for you.
Luxe Treatment Center applies evidence-based treatment methods. Therapies rely upon behavior modification and motivational interviewing as solid cornerstones for long-lasting recovery. Combined with non-invasive detoxification and psychotherapy, we utilize a wide range of proven tools to facilitate the best outcomes possible.
We know that this is a difficult time for you, and we recognize how brave you are to come forward and ask for help. For more information, please visit us at luxetreatmentcenter.com.