Mental Health/Co-Occurring Disorders
Breaking Down the Barriers Together
Many times, a substance use disorder is complicated by the existence of a co-occurring or dual disorder that can act as either a root cause or subsequent result of the substance use disorder. It's important to treat both simultaneously. Treating only one of the disorders can hamper recovery and even negate progress, leaving you disillusioned and discouraged. At Luxe Recovery Center, we thoroughly assess your condition, in order to understand the extent of the challenges you face. We are fully equipped to treat any and all mental health issues that may be involved in your diagnosis.
Making the Decision, Taking the Step
When you arrive at our luxurious Las Vegas residential facility, we welcome you and then introduce you to the key team members who will be working with you. Our medical/clinical team then conducts an examination and performs an assessment so that we can determine the best course of treatment. At this point, we can evaluate the extent of any other co-occurring issues that might be present. Once you have gone through our safe, non-invasive detox process with assistance from our medical staff, we can then begin addressing the root causes of your substance use disorder and help you to heal, both physically and mentally.
A Roadmap for Every Condition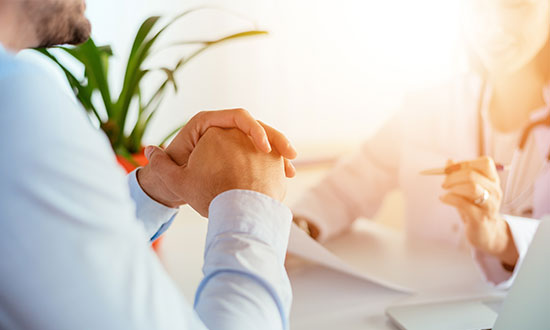 A number of co-occurring disorders, if not properly treated, could sidetrack your recovery. But Luxe Treatment Center's therapeutic staff is trained to recognize many
different conditions, including:
Depression
Anxiety
Post Traumatic Stress Disorder (PTSD)
Bipolar Disorder
Anxiety
Attention Deficit Hyperactivity Disorder (ADHD)
Trauma
Dealing with issues of this nature can seriously hinder your ability to focus on your sobriety. So we work with you, through individualized treatment administered by our licensed, knowledgeable professionals, to help you deal with any underlying conditions. These sessions will enable you to better understand the relationship between the dual disorders and how they can amplify your distress. Once you recognize these factors, you will be able to better deal with the issues at hand.
Moments to Reflect
It is important that you face your challenges in an environment that is comfortable and relaxing. A place that feels safe, secure, and embracing. You will find that here at Luxe Treatment Center, where the emphasis is on beauty, privacy, and serenity. There is abundant space to reflect and grow, to work your program without judgment or pressure.
Besides the luxurious residence and peaceful grounds, you will have access to delicious chef-prepared meals, exercise, and physical activities, as well as therapists and counselors who are always ready to talk and to provide guidance and feedback, every step of the way. Remember, too, that we have initiated a Full Circle Support structure for you so that you can call upon any number of concerned individuals – from our staff to your professional referrer and/or loved ones – for advice, encouragement or to act as a thoughtful sounding board.
A Little Trust Goes a Long Way
It is always reassuring to know that you have someone in your corner like Luxe Treatment Center. We recognize the complexities of co-occurring disorders, and we have the training and compassion to help you over every obstacle so that you can become whole again. We invite you to put your trust in us as you continue your exciting journey of rebirth and renewal.